EF-10/20/40 MKII
00003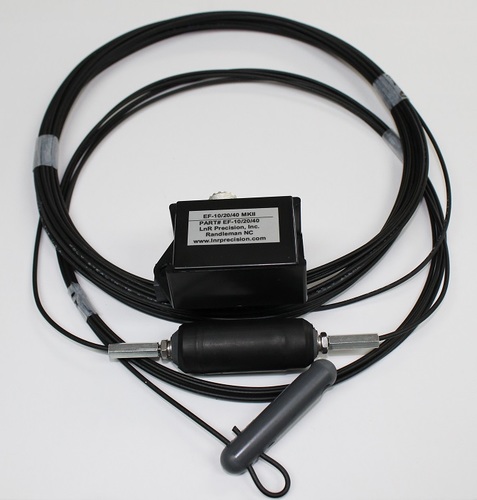 EF-10/20/40 MKII EndFedz Antenna
Multi-band QRP (25W) EndFedZ. The Mark II version of the traditional EF-10/20/40 offers an inline choke which helps preventing it from being snagged.
SPECIFICATIONS
Polarity: Depends on mounting configuration
Design Z: 50 Ohms
V.S.W.R. Bandwidth 20M: 500KHz 1.5:1
V.S.W.R. Bandwidth 40M 140KHz 2.0:1
V.S.W.R. Bandwodth 10M 900KHz 1.5:1
Power Handling: 25W CW/SSB
Weight: 0.5 lbs
Length: 41'
Hardware: Stainless Steel
Connector: Silver/Tefon SO-239
Radiator #18 black poly coated copper clad
The EF-10/20/40 may also be used on 20/30M by replacing the 40M tip with a 38" tip. This will raise 20M resonance a bit, but should not be a problem; especially if 20M was initially set to the CW portion of the band, or by connecting the stub to the choke end closest to the matchbox and reestablishing 20M resonance as desired. Alternatively, for 30M monoband use a 1/2 wavelength wire– begin with 46.5' of wire.
Operation as a monobander on any band between 60M and 10M can be accomplished by removing the factory radiator and installing the appropriate 1/2 wavelength wire. Calculate the approximate length from L= 468/F(MHz). As an example a 25' 10" wire will allow operation on 17M as a monobander. Initially, cut the wire a bit long and trim for best V.S.W.R.