MTR3b_LCD Mountain Topper
00093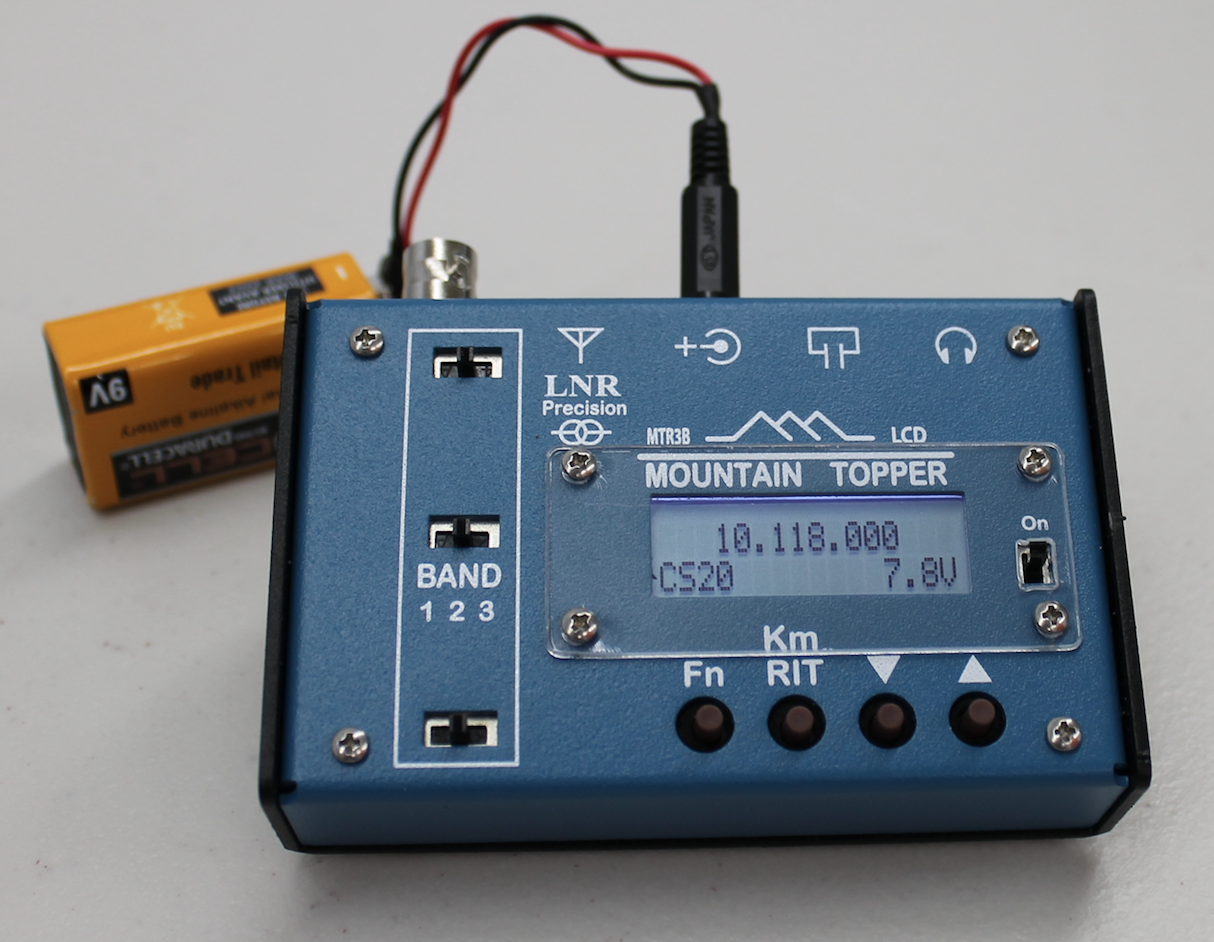 Shipping Now!

Please allow approximately 1 business day lead time prior to shipment.
This is the same Mountain Topper MTR3b that you know and love but with new added features!!
Developed by Steve Weber KD1JV Designs, the PCBs and enclosures have all been produced proudly here in the USA. Each unit is fully assembled by hand here at LNR Precision. Steve Weber has also been very involved in the testing of this phenomenal radio to ensure the quality will be what you expect in his units. Please note that the Mountain Topper does not have the European CE mark, thus European customers that this affects should not purchase if this is an issue for you. At this time, we will not be offering this as a modified kit as we did for the original Mtr3b.
FULLY ASSEMBLED – Manufactured by LNR Precision, Inc.

Overview

The Mountain Topper Rigs are designed to be a very small, light weight, very battery efficient, multi-band CW rig suitable for field operation. The small size and low weight make this rig ideal for SOTA operators and backpackers.
Features:
● 3 band operation – 40/30/20
● Wide power supply operation – 6V to 12V
● Low operating current – 20 ma @ 6V, 15 ma @ 12V
● 5+ Watts out at 12V supply, 2.5-3W at 9V supply
● Easy to read 2 line LCD display with back lighting.
● Push button tuning and audio limiting eliminates protruding knobs.
● Iambic B mode keyer, 9 to 31 WPM range in 1 WPM steps.
● Three, 63 character message memories with beacon mode.
● Optional decoding and display of Morse being sent via paddle. Know your sending good code.
● Built in 24 hour real time clock.
● Battery back up restores last used settings on power up.
Specs:
Receive MDS: ~ 0.2 uV
Small signal BW ~ 400 Hz
Audio BPF center ~ 650 Hz
Receive current:
~20 mA at 9.0 V
~15 mA at 12.0 V
Typical Transmitter power:
~ 3 watts at 9.0 V, 500 mA
~ 5 watts at 12.0 V, 700 mA
Spurious emissions: -50 dBc or better
Frequency accuracy: +/- 20 Hz, +/-10 Hz or less typical
Drift – negligible
DC Jack: 0.7mm X 10mm Center plus
Antenna jack: BNC
Size: 3.771" x 2.509" x .966" (LWH)
Weight: 4.4 ounces.
Power requirements:
6 volts minimum, 12 volts maximum.
Power jack: 1.7 mm center hole, 4 mm diameter, 10 mm (or longer) length.
Operation:
The rig is controlled by four push buttons and the paddle. Bands are selected using a bank of three slide switches. A power ON/OFF slide switch is also included. Audio level is internally limited so there is no volume control.
Display:
Operating information is displayed on a 2 line, 16 character LCD display with back light. The top line normally displays the operating frequency while the bottom line displays the current keyer code speed, the time and battery voltage in that order. This information will change depending on which of the various functions become enabled.
Option Add-ons
9V External Battery Connector Kit (12.95) Spare DC Power Plug (12.95)