Mountain Topper MTR4B - Kit Version
00068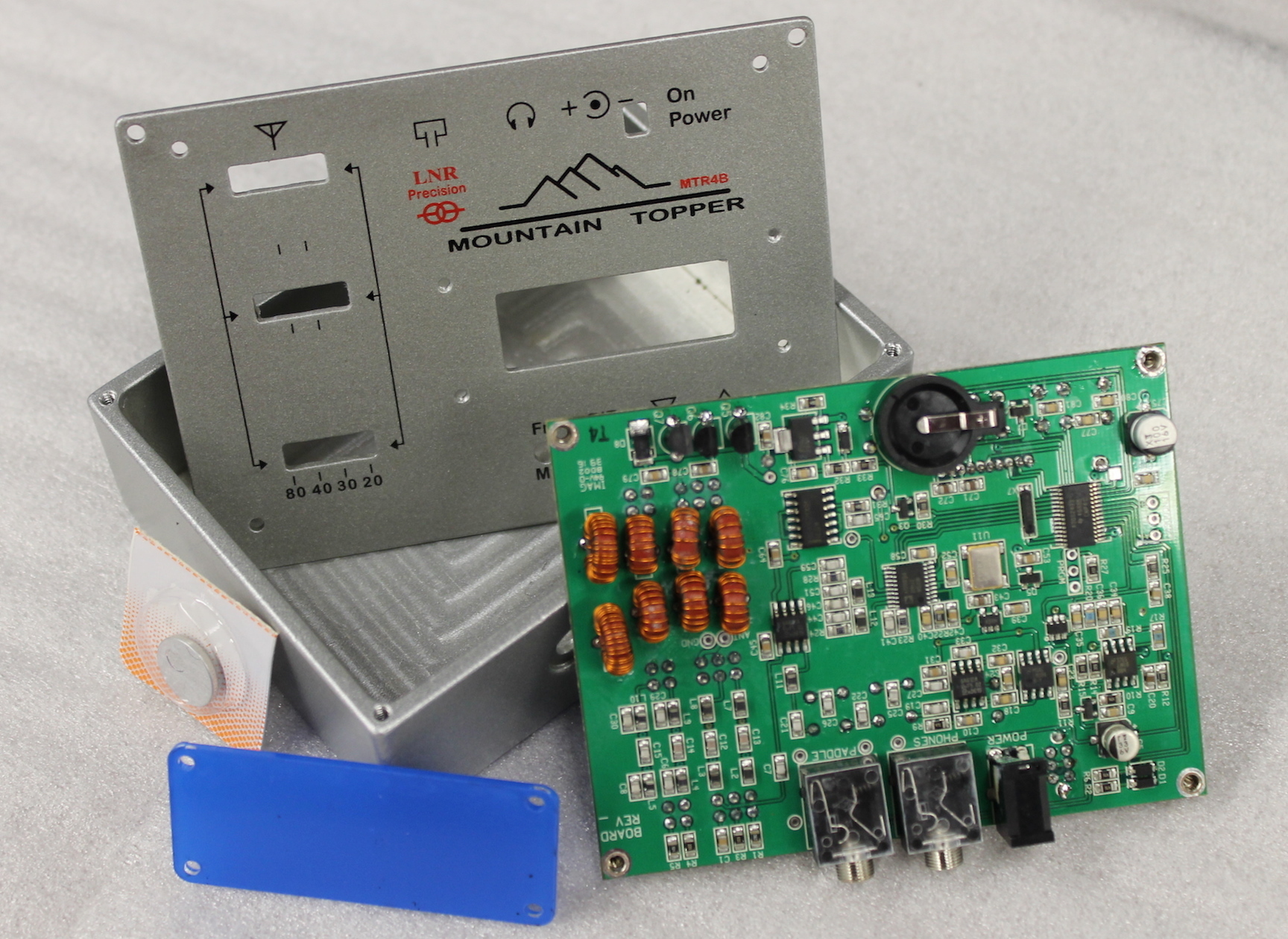 MTR4b Mountain Topper - Kit Version
This is the MTR-4B radio in modified kit form! It is by all intents and purposes, the exact same unit as the fully assembled unit but with some light assembly required. Essentially it will include the PCB with all SMT components installed and calibrated. It will require mounting the board, soldering the antenna wire to jack and fastening the acrylic LCD cover. The intent is to assist our customers who require this for customs as well as for those who like to tinker. We have always kept margins low using high quality components and enclosures so it is the same price.

Please also note that LNR does not warrant any work done by you. Only purchase if you are comfortable with light assembly work. Instruction manual and video coming soon.

The PCBs and Enclosures have all been produced proudly here in the USA!! All sub assemblies also being fully assembled by hand and calibrated at LNR Precision. Steve Weber has also been very involved in the testing of this phenomenal radio to ensure the quality will be what you expect in his units.
The Mountain Topper does not have the European CE mark, thus this modified kit should help with customs issues. Over the past year, we have been selling the fully assembled units into EU largely without any issues anyway. However, this should provide further assurance of delivery to international customers. If you have concerns, please email us at support@lnrprecision.com and we can work with you.
(UPDATE: LNR Precision recommends not using the supplied coin cell battery as it causes erratic operation of the processor. The COIN Battery ONLY maintains the TIME of the CLOCK when power is off and has NOTHING TO DO WITH MEMORY storage. The CLOCK works fine with external power. Removing the coin battery does not harm the radio whatsoever and operation is 100% fine without the battery installed)

Mountain Topper MTR4b (Modified Kit)
Developed by Steve Weber KD1JV Designs
Modified Kit Version – Manufactured by LNR Precision, Inc.

80M, 40M, 30M, 20M

3-4 Watt Output at 12VDC
Size: 4.27"L x 3.2"W x 1.34"T
Weight: approx 9.5 OZ.
Switch selected 80/40/30/20 meter bands
(no band modules to lose or change out)
* Heavy Duty Slide Switches
* Extra room inside enclosure for battery
* Machined Aluminum Enclosure
Wide operating voltage range, 6 to 12 volts 15 ma Rx current at 12V supply
Efficient transmitter. Low current with 4W output
LCD display (1.5" x 0.55")
Push button or Optional rotary tuning
24 hour clock built in, with battery back up
(CR1225 micro lithium cell battery included)

Three 63 character programmable message memories
Message beacon mode with adjustable pause time
---